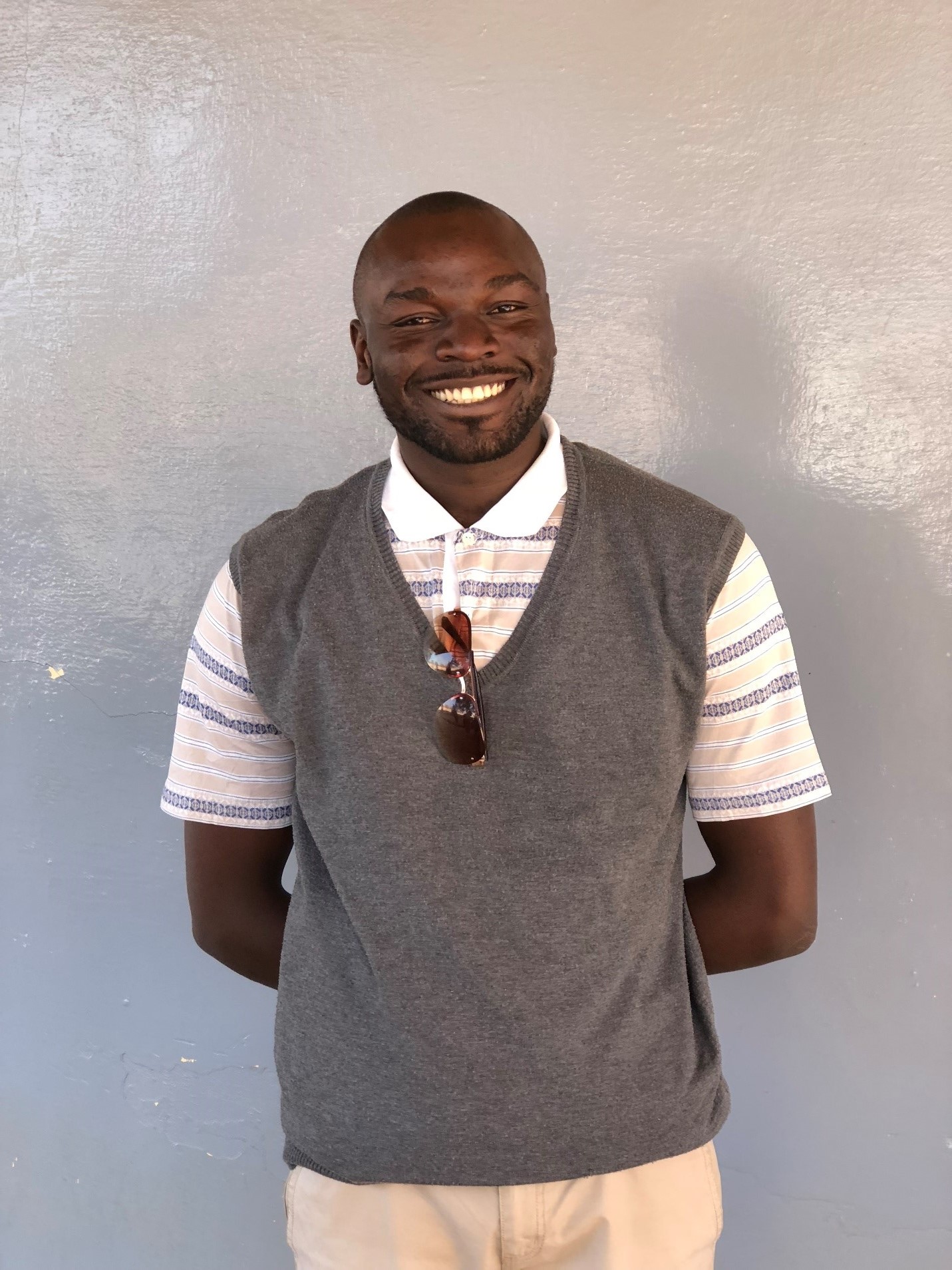 I am studying Civil Engineering at the University of Lubumbashi and, in the future, I would like to set up my own construction company. My first memory of the orphanage is that I found children like me.
When I was young I didn't think I'd be an engineer. I was living day to day. My future, I thought, was dark. My life is different today because I have people who have supported me and I can study. The University taught me how to work with other people and to set up my own company.
We don't know tomorrow or what will happen. We are grateful to those who have helped us when we were in darkness. Thank you very much.
I am studying at the University of Lubumbashi taking computer science and I love programming.
When I was young, there were wars everywhere. My father was a doctor who helped soldiers. He was killed when I was 9 and I came to Jamaa Letu orphanage.
My future is unknown to me. When I finish my studies, with the situation in my country, there are no jobs, but I am determined to never give up.
I don't know where to start to thank the people who have helped us. Everything you have done for us is very good and is producing. It's going to be my story and I'm going to tell my kids about you.
I am in the second year of learning to be a midwife at the medical institute, University of Lubumbashi. I love helping to bring babies into the world and watching the new mothers.
When I was four years old, my mother died from high blood pressure and I came to Jamaa Letu.
My life is so different than what I thought before I came to the orphanage. I have good friends; I have my degree from high school; I have somewhere to live. When I graduate from the university, I want a graduation party.
I would like to tell the people who help pay for the university, thank you. They don't even know me. It amazes me that people not from this country are supporting me. It shows such good heart.
Laurent is currently living in downtown Lubumbashi. He spends his free time playing football and loves mathematics. He will be attending the University of Lubumbashi to study law. "When I become a lawyer, I can help people when they do the wrong thing."
He has two younger brothers who he helps with school assignments. "My guiding principles are to study, work hard and to never give up. I want my little brothers to know that even if life is so hard, there is hope for everyone."
As a young child, Laurent aspired for greatness in society. "Now my goal is to help others with enough food and to be here and learn."
Josephine is 21 years old and is starting her third year studying Government Relations and Business Communications.
She would love to work in television journalism, but she says that sort of work is not available in Lubumbashi, so she switched her focus to communications.

Currently, Josephine lives in a single dorm room among many other students. On school breaks, she would like to utilize her hobby of cooking. "I want to be a great woman and start helping companies [in marketing]. For now, I want to be a chef. During vacation I'm looking for a job to cook at a restaurant."

She values independence and personal responsibility. "I don't want to be depending on a husband. I will finish my studies before starting my life. The principle of my life is that I pray [to] get strength."
Janet embodies perseverance and true grit. She has a solid social circle on whom she relies for advice on life and school. Hoping to one day work in a clinic or hospital, she is studying to be a psychiatrist.

"My future dreams are to have a big house and to be taken as a serious scholar."
Aigrette is driven, independent, and focused. At twenty-three years old, Aigrette is starting her third year studying Human Resources and hopes to someday lead a large company. "When I was younger, I wanted to have a job, and to be big woman in life."

Her hobbies include singing and doing hair, wigs and extensions. She has an older sister.

"When I was [young], I was afraid of not knowing the future. I was feeling bad and I didn't know what was coming. Now life has changed. When I was younger, I thought I would be depending on other people to make all things happen. Now I understand that I can do many things on my own and I am responsible for my own life."
Desire is future-focused and is studying computer science at the University at Lubumbashi.

"I always wanted to be a strong man and even now think and hope I am realizing that. "My direction in life is to be someone and make much money to help others here in Lubumbashi." His aim in the meantime is to continue studying and finish his degree. "I need to find a way of finding a job. Abroad there is many knowledge…I want to keep on to get my masters (degree) and come back."
In addition to a career in computer science, Desire would also like to study singing and acting. In his spare time, he enjoys playing soccer.

He lives by honesty and integrity. "The principles that I live by is to tell only the truth even if I have trouble with someone I still tell the truth."
Crispin is currently studying at the University of Mulungwishi and is starting an internship. After he finishes school, he hopes to be a computer programmer at a large company and to utilize his skills in both business and gaming. With his sights set on one day becoming a famous computer programmer, he says, "I have hope for the future. I would like to make the greatest app that would make networks more secure for companies. Security is essential."

Even his social time is focused around the creative process and exchanging ideas about computers with friends. In addition to technology, Crispin likes to play basketball, but truly adores soccer. He is a careful listener and counsels his peers. Giving back to his community, being trust-worthy, and getting educated are very important to him.
Jenny is studying administrative services. As a part of her program, she has learned the Office Suite and loves to use Word. During school, she lives in a location called the Lodge where many other students live, on school breaks she stays with a friend from church. While on school break, Jenny enjoys reading English books and working on her English grammar. She loves to write and she loves gospel music.

She is grateful to the people in the Pacific Northwest who support her education. She said, "there are so many people who have so many things, but they don't have the heart to support others."
Twenty-eight year old Celia has been working as a lawyer for the last year and a half. She is full of grace, forgiveness and fortitude.

After finishing her studies in 2017, she found a job after an initial training at another company. Being a laywer has been her dream since she was a little girl. Her favorite part of her job is "is to tell people what they don't know and to show them that they are important in their own country."

She also serves on the youth-led council that advises the other Jamaa Letu students on budgets and scholarship dispersal. When asked how she gained the trust of Jamaa Letu students, she says "I don't know, but when we are doing something, we have to do it with love. When we do something with love, it helps others to put their trust in you."

"I am at the beginning for living my dream. I want to do great things for my country, for my family and I want to be [...] a great leader. To help people to do great things in our country, Congo, because Congo needs more. Those who went outside [the Congo to live and work], Congo needs them. Congo needs more."
Benita is studying business communications at the University of Lubumbashi and shares a dorm with two other girls. Her older sister, Cecile inspires Benita to work hard in school. Seeing her brothers and sisters from Jamaa Letu also fills her heart with joy.

As a girl she aspired to be a star: a singer and a dancer. Now, she loves painting, design, and art. "I want to finish my studies, to help people in the future and to have a good job. A good job is to be well paid and to have a good house and many kids probably."

When asked about the people who help support her education she says, "I thank them for everything. Because without them I wouldn't be the person I am today. I will be a great woman and thank them from the bottom of my heart."
Twenty-nine year old Zango, called "Mister" by his friends, finished his studies in Computer Science at Mulungushi University in 2017. He pursued additional Digital Network training at Académie Cisco Isp-Lubumbashi for 6 months and has since been looking for a job. Originally, he is from Kisengue which is quite a ways away from Lubumbashi. Zango is an accomplished gardener; he has grown potatoes, cabbage and onions.

When he was young he imagined life would be easy and that he would have everything he needed but now he says, "In life you must work hard. I get courage to keep looking for a job because I think 'how am I going to eat, how will I wear clothes?' that is how I keep courage."

Computer Science is passion: he is engaged by calculation and managing account credentials. Currently researching raising capital, he hopes to start a cybercafe so he can help people connect and access the internet.
Rosy is a bright shining star. She is 21 years old and about to go into her third year at the Institute Supérieur and is studying Project Management. She is so grateful for her advanced education. When she was young and living with her aunt and uncle, she says a pastor in her church told her that "she would be a great woman someday." I think that day is here. Rosy is sparkle in human form.